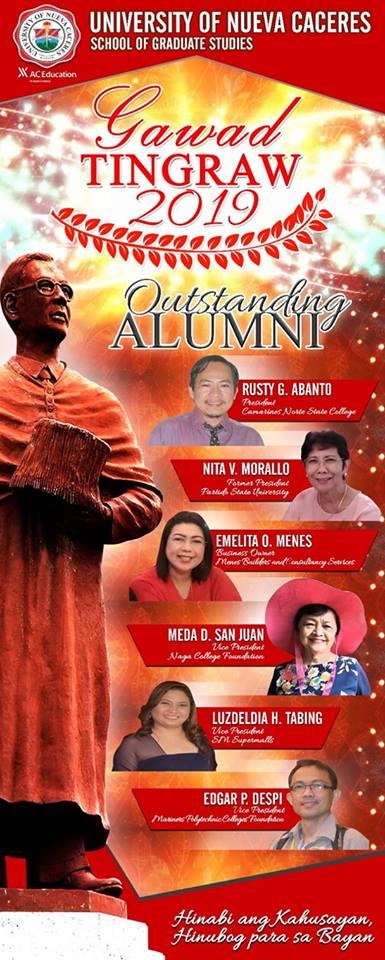 The University of Nueva Caceres, School of Graduate Studies recognizes current CNSC President Dr. Rusty G. Abanto as one of the five awardees during the Awarding Ceremony on March 30, 2019 held at the Villa Caceres Hotel, Naga City themed as, "Hinabi ang Kahusayan, Hinubog para sa Bayan".
Dr. Abanto earned his MS in Environmental Science at UNC in 2002.  He rose from ranks from being an instructor, Planning Director, Dean of College of Agriculture and Natural Resources, Vice President for Academic Affairs and concurrent Dean of the Graduate School until he was elected as the 5th CNSC President in February 2017. 
The Outstanding Alumni Award is given to UNC Alumni to recognize their achievements both professionally and personally and for their notable contributions to the profession with remarkable impact to the community.  Humbled by this recognition, he is focused on his goal of making CNSC as a premier higher education institution in the Bicol region.  His actions are guided by his unwavering commitment to bring about "the greatest good for the greatest number of people in his administration". CNSC Community is motivated by this newest award which is undoubtedly very inspiring.
Kudos Sir! You are truly an inspiration to the entire CNSC Community!