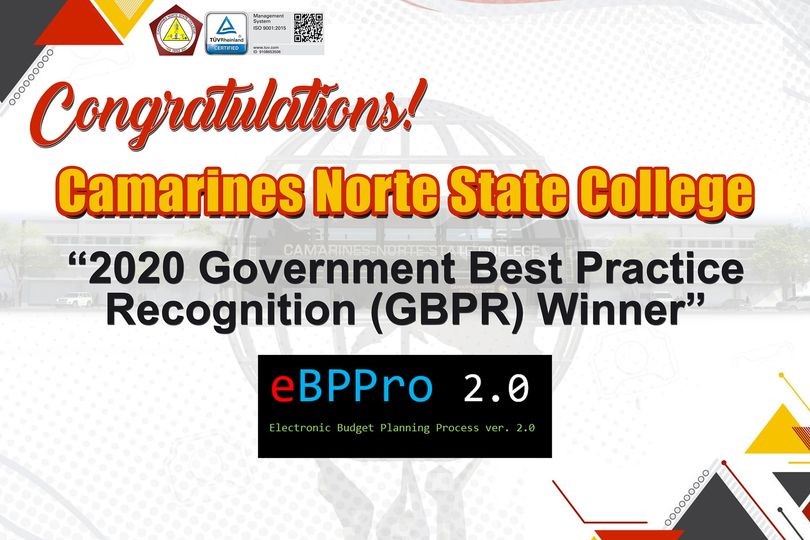 The Camarines Norte State College braved this year's 2020 Government Best Practice Recognition (GBPR) from among 79 entries. CNSC belongs to the 10 winners of the GBPR 2020. The GBPR is a program initiated by the Development Academy of the Philippines (DAP) that seeks for outstanding, innovative and validated practices demonstrated by public sector organizations.
The final presentation among carefully selected entries was conducted on October 22-23, 2020. CNSC's best practice entry is the eBPPro or the Electronic Budget Planning Process. The eBPPro is a productivity application system unique to the operation of CNSC for its timely, accurate and goal oriented budgeting. eBPPro's key feature that makes it an innovation is value for government's financial resources.
CNSC President Dr. Rusty G. Abanto defended the eBPPro project to the panel of judges with Enp. Ronald Dando and Institutional Planning and Development Officer Ms. Emmalyn Guaves. They confidently answered questions from the panel of judges emphasizing on the benefits, acceptability, uniqueness, sustainability, replicability, usability and most importantly the impact of the eBPPro to the institution and sooner to other SUCs in the region.
The GBPR final presentation also serves as venue for sharing of best practices among public sectors to further enhance quality of service delivery. This also revitalizes public sectors commitment to service and establish collaboration with other agencies.